1/2 x 2 Inch Ratchet Knockout Punch Driver Kit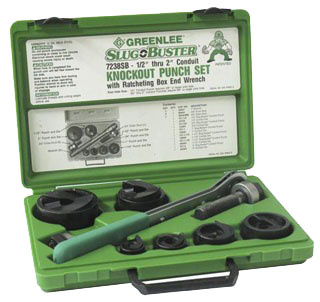 New Greenlee high-leverage wrench with five-degree ratcheting mechanism, Slug-Buster® punch profile splits slugs for easy slug removal. Knurled edge on punches for better grip. Laser markings for quick part identification.

12-Piece Electrician Tool Kit
Kit Includes: 2" LeatherTool Belt, 8-Pocket Leather Pouch, 25' Tape Measure, Phillips Tip #1-3/16" x 3" Screwdriver, Phillips Tip #2-1/4" x 4" Screwdriver, Cabinet Tip Round Shank 3/16" x 6" B Flat Blade Screwdriver, Keystone Tip Square Shank 1/4" x 4" Flat Blade Screwdriver, Pro Plus Wire Stripper 10-18 AWG, 8" Long Nose Pliers, 10" Pump Pliers, 8" Diagonal Cutting Pliers and 9" Side-Cutting Pliers.